Heel recent kreeg ik van mijn webhost een email, dat mijn klant z'n site offline is gehaald omdat hierop malware teruggevonden was. Uit veiligheidsoverwegingen, hebben ze dus de site geblokkeerd. Tijdens de nacht was een hacker ingebroken door brute force attack op het domein wachtwoord. Na succes had hij verschillende bestanden ge-upload en WordPress bestanden aangepast.
Het doel hiervan was hyperlinks creëren van onze site naar z'n malafide website. Het grote probleem hier is dat als Google deze malware vindt op onze site, wij verwijderd zullen worden van Google Index!
Volgende stappen komen aan bod in deze tutorial over wordpress security:
Update alle plugins & WordPress tot laatste versie
Verwijder Admin username en kies een andere administrator user
Installeer een WordPress Security Plugin
WordPress Security Tutorial
---
1. Update Plugins & WordPress
Het klinkt misschien vervelend of je hebt het al duizend keer gehoord… Maar, ja het is echt waar. Update al je plugins en WordPress tot de allerlaatste versie. De reden ligt voor de hand. Geen enkele software is waterdicht en voor elke vernieuwing of aanpassing ontstaat misschien een nieuw security leak. Telkens als er een beveiligingsrisico ontstaat, zal WordPress hiervoor een update voorzien. Dit geld ook voor veel professionele plugins.
Pas op! Alvorens je klikt op update: Heb je aanpassingen gemaakt aan plugins? Maak een backup van alles!
Zoals de waarschuwing hierboven beschrijft, maak best een snelle backup van je bestanden.
Heel snel -> backup enkel je theme folder en plugins folder.
Normale backup -> kopieer alle bestanden op de server naar je PC.
Vergeet ook niet via PHPAdmin een mysql backup te maken van je database.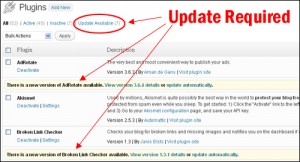 2. Verwijder Admin user
Het wordt overal op internet aangeraden om niet de standaard admin user account te gebruiken van WordPress. Dit is namelijk voor één voor de hand liggende reden. Hackers hebben al de username "admin" en moeten slechts nog proberen het wachtwoord te vinden door brute force attack. Via hack programma's testen ze een enorme hoeveelheid aan letter en nummer combinaties uit om uw wachtwoord te kraken. Het is gewoon een kwestie van tijd om binnen te geraken. Wilt u hun kansen drastisch verminderen? Kies gewoon een persoonlijke username. Die kennen de hackers niet.
3. Wordpress Security Plugin
Er zijn ondertussen heel wat beveiligings plugins beschikbaar, maar voorlopig vind ik deze bijzonder goed. WordFence Security. Deze installeer je  op de gebruikelijke manier via "nieuwe plugin installeren" in WordPress dashboard. Zoek voor WordFence en installeer. Nadien vraagt hij je om uw emailadres op te geven. Telkens er een probleem is, zal deze plugin u op de hoogte brengen.
Na installatie klik onmiddellijk op scannen en uw website wordt gecontroleerd. Na scan, zijn er soms acties. Bvb hij ziet dat bestanden gewijzigd zijn. Je kan deze corrigeren door te klikken op bestand herstellen. Nadien blijft uw website constant onder bescherming.